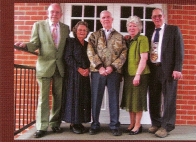 In November, 1957 a group of Seventh-day Adventists started a Branch Sabbath School that met each week in the Elkton Veteran's of Foreign Wars Hall.  During the  first two years that the group met there they saved $1,000 for the purchase of a lot on which to construct a new Church building.  By 1964 the group had grown from13 members to double that number.  On May 17, 1964, having bought a two-acre parcel from Dr. Edgar Kite, the company broke ground for a new Church.  Construction began immediately on a new Church to accomodate 150-170 members.
Charter members estimate that 90% of the labor on the Church was donated.  The labor of over 50 men, women, and children came to the equivalent of 1036  8 hour workdays.  Timber for the building was cut from the local mountains.  Nearly 6200 board feet were cut in the time period of one Sunday and one evening; and then hauled from the mountain to the building site.
The building was completed at a cost of $39,000; and the first Church Service was held on July 16, 1967.  The Church was dedicated on August 19,1967 with Elkton Mayor Welty Hensley offering opening congratulations.  The Elkton Church, at the time of the Dedication, had the distinction of being the only Seventh-day Adventist Church in Virginia to be Dedicated debt-free. In August, 2014 we celebrated 57 years of being in the Community of Elkton, 55 years since we were made a Company, 50 years since our Groundbreaking in 1964 for our original Church, 47 years of Worshipping in our Present Building, and 2 years since our Groundbreaking for our New Addition.
This is new history for the church, New website!